By Shelby Rogers (Interesting Engineering)
A new pair of glasses could help revolutionize computer usage in those with restricted mobility. The tech startup GlassOuse uses a modified pair of glasses to help people with no hands or no usage of their hands use technology.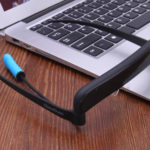 Millions of people suffer from debilitating physical disabilities around the world. From amputations to strokes to neurological injury, these disabilities force people to reconfigure their lives. For someone who can't use his hands, technology can be one of the most challenging aspects of a new life. Constantly texting on phones, researching online, or even posting a simple Tweet become infinitely more difficult. The company notes that over 30 million people can't use their smart devices due to their disability. GlassOuse looks to be the universal device to assist with almost any technological need someone could have.
The glasses track head movement to move the cursor accordingly. A durable bite part clicks on whatever someone needs. The clicker is sensitive enough to register small bites yet durable enough to withstand more pressure. The battery cell can be used for up to 15 days of usage without a need for recharge. The app connects to Android and iOS systems as well as Windows PCs, Macs and Linus PCs.
GlassOuse founder Mehmet Turker has an immensely personal connection to the product. Read the remainder of this entry »