AT in Development
As you might have guessed by now, I'm a little obsessed with assistive technology products in development. Just can't wait to see what comes along next! AT is evolving quickly and it seems that every day something new comes on the market. Here are a few of the most interesting products that will be on the market in the very near future.
The Ogo ( a cross between a wheelchair and a segway!)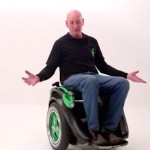 Engineer Kevin Halsall spent four years modifying a Segway to become a wheelchair for a friend who had a skiing accident.
Lighter, smaller and faster than any power wheelchair available today. The chair is hands-free and intuitive. Like a segway, the user uses their body movements to move the chair in the direction they want to go. The two powered wheels can be changed quickly for all-terrain tires, allowing a user to race down a sandy beach at 12 mph — the average adult running speed or twice as fast as most people jog.
The Ogo won the National Innovators Award in New Zeland and Halsal has started a company to bring his invention to market. His company, Ogo Technology, hasn't set a price or delivery date yet but he wants to make it as affordable as possible. For more information visit them at http://ogotechnology.com/ .
Empatica: A New Smartwatch That Detects Seizures and Emotional Stress
Empatica has developed groundbreaking wearable devices with medical quality sensing. They have designed and developed the world's smallest and most accurate wearable device for medical research of human behavior in daily life.
This smartwatch, developed by Empatica, records electrodermal (EDA) activity and wirelessly sends the data to a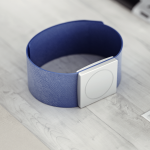 smartphone. The new, highly sensitive sensor technology can now provide a continuous reading on our emotional states, linking the tiniest increase in sweating to psychological or physiological arousal. The smartwatch has implications in predicting seizures as well as predicting emotional changes in people with autism. For more details visit their website at https://www.empatica.com/ .
BLITAB® is an award winning innovative Braille tablet device.
BLITAB® is the world's first tactile tablet for blind and visually impaired people. BLITAB® is a next curve Braille device for reading and writing that displays one whole page Braille text, without any mechanical elements. It is like an e-book which instead of using a screen displays small physical bubbles. They rise and fall on demand, as a result one whole page can be read and can be written via Braille Perkins Keyboard. For the first time, users can have an overview of a whole document.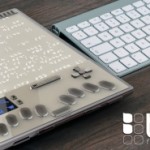 BLITAB® allows a direct converting of any text file into Braille from USB sticks, memory Cards, web browsing and obtaining information via NFC tags. The aim is to make BLITAB a leader in digital lifestyle for every blind and visually impaired user. Their motivation – to make blind people be independent at school, at home and at work and to enable them to maintain gainful employment.
The Dot: A Smartwatch for the Visually Impaired.
When a group of students at the University of Washington saw a classmate struggling with large, heavy Braille books they had an idea. The result is the development of the Dot! A smartwatch that translates text, e-books and tweets into Braille. Wearing Dot, users can read incoming text messages or tweets, read the time and even read e-books. The Dot is used with a Bluetooth enabled phone. When text arrives on the phone, the app translates it to Braille and sends it to Dot. The face of the Dot is made up of pins that rise and fall to display the Braille text. The speed of the display can be calibrated to meet the user's reading speed. The product is supported by both iOS and Android and will cost approximately $300.00. Check out their website at http://fingerson.strikingly.com/ .