AT Products – What's New!
CDI Computer Dealers announces the launch of Google Learning Bundles: four carefully-vetted product suites that enable K-12 institutions to maximize the benefits of Chrome-based learning. The Google Learning Bundles focus on the areas of creativity, media literacy, STEM, and active listening to help educators begin teaching with the devices from day one.
Chromebooks have become the digital learning device of choice for schools and CDI has already deployed more than 270,000 units. These versatile and cost-effective devices provide unprecedented learning opportunities; however, navigating the seemingly endless choice of apps and tools is often overwhelming for educators. The Google Learning Bundles simplify this process.
The latest version of Clicker is more accessible, user-friendly and customizable than ever before. Clicker 7 helps every child to play an active role in their own learning and offers complete support throughout the writing process.
Judy Lynn Software programs are developed specifically for students with special needs under the guidance of assistive technology professional, teachers, therapists and parents. New Apps include Sequencing Taske – Toileting & Classroom Connect.
Crick Software: SuperKeys 2.0 is Here!
Crick has just published a new version of SuperKeys on the App Store! SuperKeys is our unique accessible keyboard for people with mild to moderate physical challenges and those with low vision. Version 2.0 enables you to fully personalize the app to each learner's requirements:
Proloquo2Go:
PRC's Unity Symbols are now available within LessonPix.com : You can find the symbols here: http://lessonpix.com/clipart/386/PRC+Unity+Symbols
Crick Software
Clicker Apps PDFs.  
We have added some printable training handouts for our
Clicker Sentences
,
Clicker Connect
, and
Clicker Docs
apps to the website. These step-by-step guides will take you through key processes including creating a new set, customizing the settings, accessing our free resources, and sharing your sets with other devices. You can access these via the 90-second training link on the
Clicker Apps Training page
.
R.J Cooper has 2 new cause/effect apps ready to rock! 
Children's Switch and Touch Progressions and Teenage Switch and Touch Progressions are both switch and touch accessible. Both contain cartoon simulations of real life scenes, with Teenage having much longer and age-appropriate scenes.  Both have Skinner-type prompts, cues, and corrections built in.  Both keep data.  Both allow you to bring in your own music. Both are, for the time being, only $4.99. The following link will bring you to the R. J. Cooper page at the App Store. https://itunes.apple.com/us/artist/rj-cooper-associates-inc./id412790299 . RJ Cooper & Associates, Inc. | 22600-A Lambert St. Suite 708 | Lake Forest | CA | 92630 | US
Tobii Technology AB: A Simple and Fun Way to Learn Eye Tracking and Prepare for AAC
PCEye Explore is an entry level, peripheral eye tracker that opens up the wonderful world of gaze interaction to everyone
Today, Tobii Dynavox (http://www.tobii.com/en/assistive-technology/global), part of the Tobii group, the global market leader in eye tracking, announced the launch of Tobii Dynavox PCEye Explore. Priced at 749 EUR, the PCEye Explore is an entry level, peripheral eye tracker that opens up the wonderful world of gaze interaction to everyone.
With the PCEye Explore connected to a laptop or desktop PC, young or inexperienced users get a simple, fun and no-fail way to learn how to use eye tracking and gaze interaction. At the same time, they also become prepared for Augmentative and Alternative Communication (AAC).
The PCEye Explore lets users move the mouse pointer and perform left clicks, using only their eyes. This basic functionality, in combination with the vast number of compatible third party software titles and webpages, brings more excitement, fun, escape and "no-fail" activities to end users, instead of work, repetition, and effort.
Start engaging with simple cause and effect – look at the screen and something happens.
See if a user is responding and reacting appropriately – a visible mouse cursor tracks where the user is looking. Use the optional Tobii Dynavox Gaze  Viewer for more detailed analytics and for making and saving reports as still images or video sequences.
Introduce  active targeting – the next step as the user becomes familiar with the  interaction process between his or her eyes and the screen.
Just like doodling, but with your eyes!
"Those who learn to draw with a pen and paper start by doodling. They might not hold the pen correctly, stay within the lines, or even on the paper – and they don't draw specific things. It is all a part of the learning process, and with time, they improve. The same can also be applied to eye tracking," said Fredrik Ruben, president of Tobii Dynavox. "With PCEye Explore, aspiring users can play and have fun while getting used to gaze interaction and, at the same time, prepare for augmentative and alternative communication."
Tobii Dynavox PCEye Explore is currently available for a price of 749 EUR excluding shipping, handling and applicable taxes (and the equivalent in other regional currencies). This price includes the eye tracker and the software that controls it. Third party software is sold separately. Not currently available in North America.
For more information about Tobii Dynavox Explore, please visit www.tobiidynavox.com.
Check out – AbleNet's Remarkable Ideas…
Over the course of more than 25 years, we have discovered amazing ways people use our products to improve the quality of life for people with disabilities. The Remarkable Idea series highlights some of the greatest examples of this creativity from around the world and provides you with the resources you need to use these concepts in your efforts. Visit us at http://www.ablenetinc.com/Support/Remarkable-Ideas
Google Docs users can now access powerful Prediction engine when working in the Cloud
Texthelp Inc., leading provider of award-winning literacy software solutions, is pleased to announce that Word Prediction for Google Docs is now available in Read&Write for GoogleTM. Read&Write for Google prov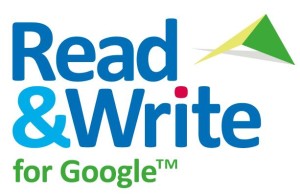 ides support tools for Google Docs, the Web, PDFs, ePubs, and Kes files in Google Drive on PCs, Macs, and Chromebooks. This comprehensive solution allows struggling readers and writers, students with learning disabilities such as dyslexia, and English Language Learners to access the supports they need within the Google environment.
PRC Introduces Accent™ 800 and Accent™ 800-D:
Prentke Romich Company (PRC), the leading developer of augmentative and alternative communication (AAC) technology for individuals with speech disabilities, recently announced the release of the Accent 800 and Accent 800-D, a Portable New AAC Solution for Individuals with Speech Disabilities. Portable and Powerful Device Makes Communicating and Connecting Fast and Easy.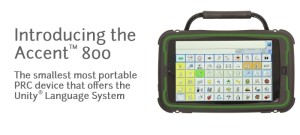 Accent 800 and Accent 800-D are the smallest and most portable PRC devices that offer the Unity® Language System. A combination of portability and power, these lightweight and sleek devices enable users to communicate quickly and easily in any environment. The user-friendly features and built-in tools for learning language make the Accent 800 and the Accent 800-D ideal communication solutions for communicators of all ages. For more information visit their site at https://www.prentrom.com/news/prc-introduces-accent-800-and-accent-800-d .
Laureate introduces Language for Theory of Mind™ & First Words™ App for iPad®
Theory of Mind (ToM) involves recognizing that other people have sensations, desires, knowledge, thoughts, and beliefs, and that what happens in others' minds plays a critical role in explaining their behavior. This research-based program* helps students understand others' perceptions, wants, and needs.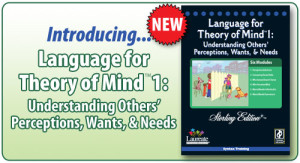 The Laureate First Words app includes 50 early-developing nouns that are trained in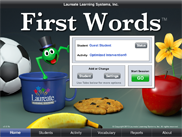 developmental order using pictures and/or photos. Laureate First Words™ App for iPad®!
The latest from Don Johnston:  

We kept hearing that the word prediction apps out there just weren't Co:Writer. Well, this app is Co:Writer! Our Co:Writer App uses the same word prediction engine as Co:Writer desktop. It includes many of the most important features students rely on like FlexSpell and Topic Dictionaries. Check it out at http://donjohnston.com/cowriterapp/ .
*The ConnSENSE Report provides the above information as a service to it's readers. The ConnSENSE Report is not responsible for, and expressly disclaims all liability for, damages of any kind arising out of use, reference to, or reliance on any information contained within the site. While the information contained within the site is periodically updated, no guarantee is given that the information provided in this Web site is correct, complete, and up-to-date. Although The ConnSENSE Report Web site may include links providing direct access to other Internet resources, including Web sites, The ConnSENSE Report is not responsible for the accuracy or content of information contained in these sites. Links from The ConnSENSE Report to third-party sites do not constitute an endorsement by The ConnSENSE Report of the parties or their products and services. The appearance on the Web site of advertisements and product or service information does not constitute an endorsement by The ConnSENSE Report, and The ConnSENSE Report has not investigated the claims made by any advertiser. Product information is based solely on material received from suppliers.