New App Wheels From CALL Scotland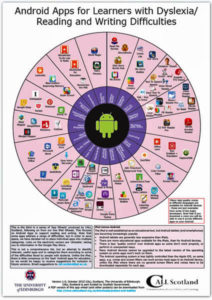 CALL Scotland has just released new and updated App Wheels. Separate app wheels for iPad and Android users are available on their website and they're free!
The 'Wheel of Apps' are not comprehensive, but attempt to identify relevant, useful apps and to categorize them according to difficulties faced by people with learning and communication disabilities. Note that some apps address a range of difficulties. To save space, they have not placed individual apps into multiple categories, but have listed them under a single category that is particularly relevant to the app. Links on the electronic version are 'clickable' and will take you to iTunes, where you can find out more about the individual apps.
Their newest additions for iPad users are:
iPad Apps for Learners with Dyscalculia / Numeracy Difficulties.
Making the Most of PDFs and Adobe Acrobat Reader for Learners with Additional Support Needs.
iPad Apps for Learners with Dyslexia / Reading and Writing Difficulties
And for Android users…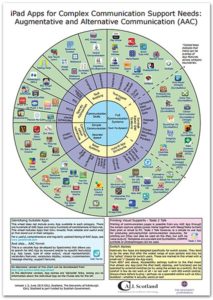 Apps for Learners with Dyslexia / Reading Writing
Android Apps for Complex Communication Support Needs.
CALL Scotland currently has 26 posters available to download on their site. All are available free from http://www.callscotland.org.uk/downloads/posters-and-leaflets.